Post-Pandemic: Opportunities for Medicaid MCOs to Increase Telehealth Access
March 2023
Written by Sarah Hurlbert, MPH
People on Medicaid Benefit from Telehealth Partnerships Led by Medicaid MCOs
At the peak of the pandemic, the US GAO reported that in five select states, the use of telehealth services increased more than 15 fold than the previous year for Medicaid enrollees. Video telehealth encounters among Medicaid patients exceeded Medicare and private insurance in 2020 and 2021.
All health plans participating in IMI's Medicaid managed care organization (MCO) survey indicated that they offered live video and audio-only telehealth modalities (Telehealth Fact Sheet). In addition, 86% of health plans in the survey noted that they implemented efficient telehealth operations that will support their preparation for the next Public Health Emergency (COVID-19 Fact Sheet).
Supporting this expansion in telehealth are policy changes by the Department of Health and Human Services, implemented early in the pandemic to ensure patients could still receive care. The Centers for Medicare & Medicaid Services (CMS) also provided flexibility to support states' facilitation of telehealth service for Medicaid and Medicare enrollees. Some state Medicaid agencies have made federal flexibilities permanent in their state.
Broadband Access and Computer Literacy Continue to be Barriers to Telehealth
The pandemic highlighted health and structural inequities that have long existed in the United States. Broadband internet access and telehealth were thrown into the spotlight. In 2021, 13% of households with a Medicaid enrollee did not have a broadband internet subscription, compared to 9% of households without Medicaid enrollees. The Medicaid undercount for the 2021 American Community Survey (ACS) nearly doubled pre-pandemic levels to 16%. It is possible that the disparity between households with and without a broadband subscription could be larger due to the ACS undercount of Medicaid enrollees.
Medicaid health plans report that broadband access and computer/technology literacy were the leading barriers for members and providers in their network (Telehealth Fact Sheet) (Figure 1).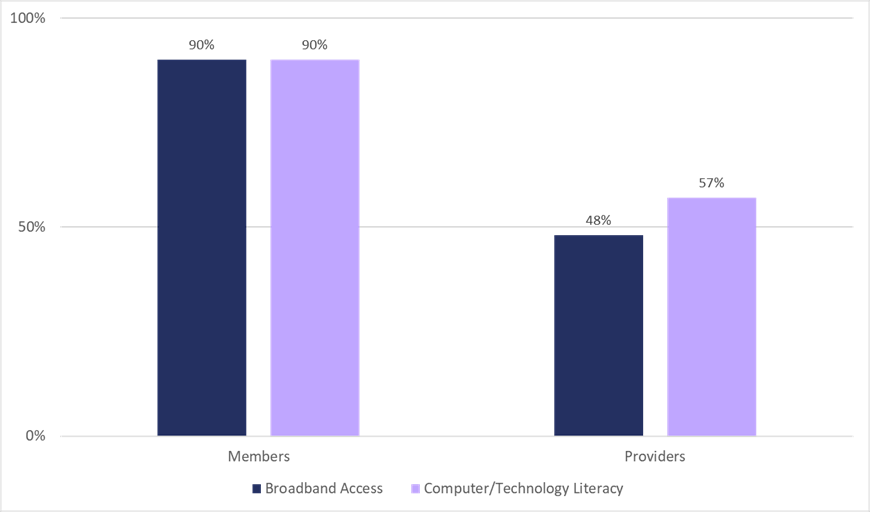 Medicaid MCOs Lead Collaborations to Address Barriers to Access
Some Medicaid MCOs have started programs and partnerships during the COVID-19 pandemic to improve telehealth access. Health Net in California awarded $13.4 million in Telehealth Capacity grants to providers. The grant funds were used by providers to purchase technology, internet access, training and technical assistance, and other items to support their telehealth operations. UnitedHealthcare Community & State in Massachusetts created a Tablet Loaner program. Tablets were given to residents of nursing facilities so they could have telehealth visits with their provider and video calls with their families and loved ones.
Medicaid MCOs are taking steps to improve the computer/technology literacy of their members and providers. Medicaid MCOs can continue to work with community-based organizations (CBOs) to connect members to resources that assist with computers and technology, and to CBOs that provide low-cost broadband internet in the members' home. Improving broadband internet access and computer/technology literacy for Medicaid enrollees and providers is critical in ensuring that Medicaid enrollees' health and SDOH needs are met.
The Institute for Medicaid Innovation's (IMI) annual Medicaid managed care survey is one of the first comprehensive efforts to collect robust, longitudinal data from Medicaid managed care organizations (MCOs) on a range of topics. This blog post draws on the 2022 survey results. To learn more about the Annual Medicaid MCO Survey or to view the 2022 results please visit the IMI Annual MMCO Survey webpage.