Barriers in Accessing 17P for Pregnant Women in Medicaid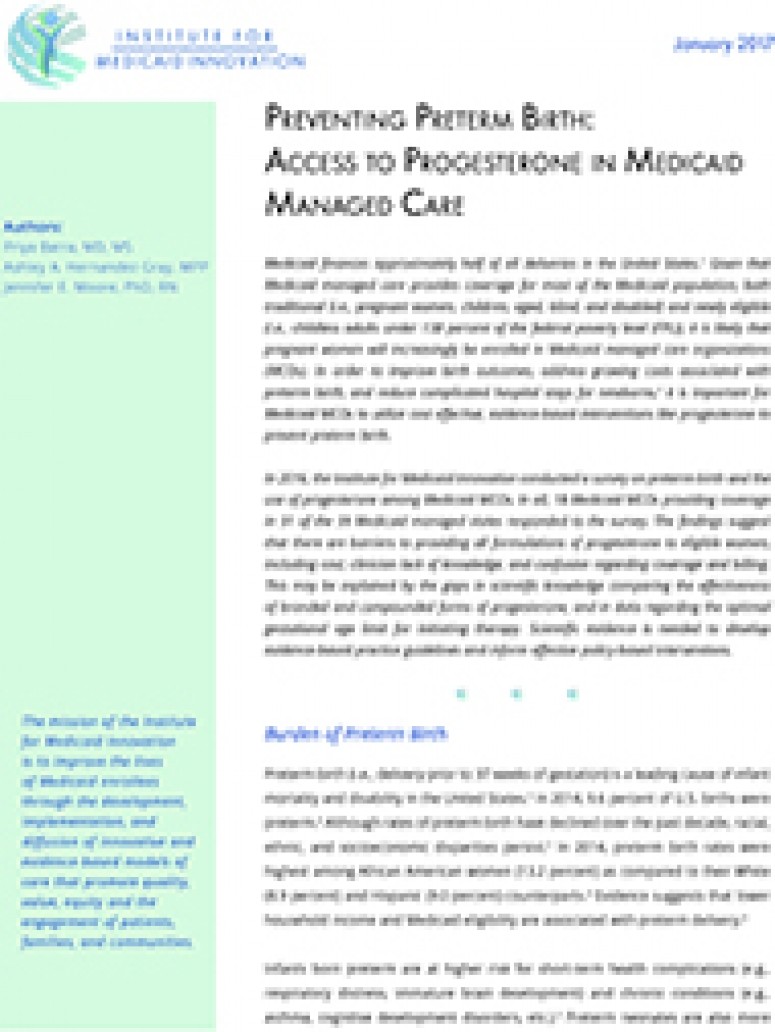 Preterm birth – delivery before 37 weeks of pregnancy – affects almost one in ten births and is the leading cause of neonatal morbidity and mortality in the United States. Babies born preterm account for almost $20 billion in health care costs annually, both for acute care (after birth) and long-term care needs throughout childhood. Preterm birth disproportionately impacts women insured by Medicaid. Medicaid managed care organizations pay for over half of all hospital stays for preterm infants with the proportion of complicated newborn hospitalizations reimbursed by Medicaid increasing over the past several years while private insurers has decreased.
The strongest risk factor for preterm birth is history of a previous early delivery. When administered weekly from 16 to 36 weeks of pregnancy, progesterone injections have been shown to reduce the risk of recurrent preterm birth. Despite the established benefits of progesterone, studies suggest that only a small proportion of eligible Medicaid enrollees are receiving it. Variation in state Medicaid policies regarding the coverage of progesterone may contribute to the limited implementation of this intervention in maternal and child health.
In partnership with the Robert Wood Johnson Foundation and the Medicaid Health Plans of America, the Institute for Medicaid Innovation carried out a survey of 20 Medicaid Managed Care Organizations (MMCOs) to better understand progesterone coverage and barriers to accessing this medication. Participating MMCO's represented 31 of the 39 states with Medicaid managed care programs, and varied in size and financial structure. The analysis found that while most MMCOs covered progesterone, there was variation in how these plans approached prior authorization, benefit type/structure, and gestational age restrictions for use of the drug.
The report of this survey – the first to look nationally at progesterone coverage policies in a Medicaid managed care setting – also discusses possible solutions to improve access to progesterone among eligible women. The full results can be found here.